Sugar Foot Stomp!
Swing Dance Socials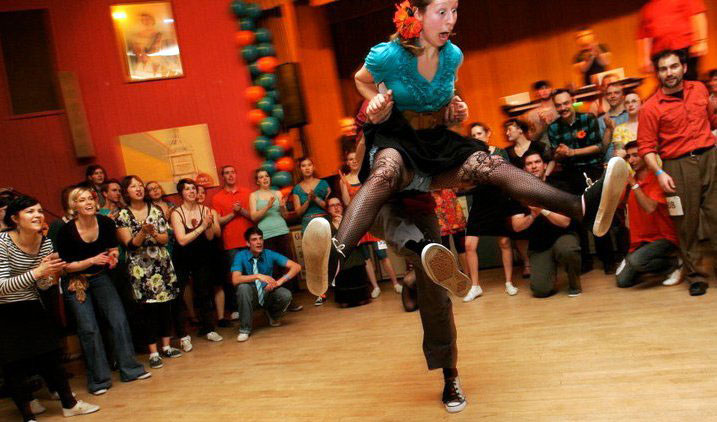 The Sugar Foot Stomp! is Edmonton's feature swing dance event that occurs every Saturday Night! Swing dancing is energetic, enjoyable, cool, and just plain fun. Every person, regardless of age, shape, size, and fitness is welcome to participate. This is an all-ages, dry event, intended for people with no dance experience.
We teach a drop-in beginner lesson to start the night, and DJ great music for dancing. Plus, if you want to take lessons, this is a good chance to check out the swing scene in Edmonton. We encourage you to come out, meet our helpers and instructors, and have a great time. Check out our calendar and make your appearance at the next dance.
Date: Every Saturday Night!
Lesson: 8:00pm - 9:00pm
Dance: 9:00pm - 12:00am
Lesson: $2 with admission
Admission: $10 Regular (except special nights);
$2 off for members and $1 off students
Location: Sugar Foot Ballroom, 10545-81 Ave
To be able to hold this event every week, we always are in need of volunteers. Volunteer for this event, and get in free (or discounted) admission! All you have to do is take two half-hour shifts at the door, and we will love you forever. Please join the Sugar Foot Stomp Facebook Group in order to hear for the 'call-out' for volunteers. You must also be a Sugar Swing/Sugar Foot Ballroom member in order to volunteer.
Special Sugar Foot Stomps
About every month we have a bigger party. These are bigger and we aim to make them a ton more fun. Usually it'll be attached to a workshop or event weekend, or it may be a themed dance, or it will be a live music dance. The cost admission will typically be a bit higher, in the $15-$25 range depending on the occasion. Please check our Calendar for the next amplified Sugar Foot Stomp!